Civica Online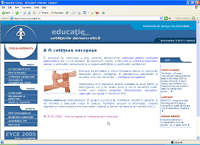 civica-online.ro website
Civica Online project is developed by the Institute for Education Sciences and TEHNE. It aims to: (a) present the key-concept and practices in the field of EDC; (b) stimulate the discussion, debate and initiatives on new EDC guidelines and methods; (c) facilitate the flow of information to all the stakeholders.
In this context, it was developed the website www.civica-online.ro, which provides resources and information for teachers, headmasters, policy-makers, education experts, NGOs activists.
As a long standing objective, the project aims to support the social transformation and the civic education reform.